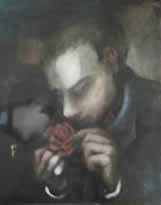 Putin and the Rose My employers at the Institute I work in commissioned me an official portrait of Vladimir Putin. They appropriated funds for "Institute's Wall Newspaper". So I bought paint, canvas, stretcher and whatever I needed to perform this important task. Moreover, I was painting in my labour hours, instead of doing my primary work. Now the President's portrait stands out in the office of the vice director.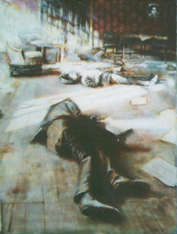 Morning. One of my friends - Sasha Korolev (who used to play guitar in Amontillado) worked in the Lenin museum. There he fetched a photo. He told me about the Finnish Revolution Government that wanted to establish Communism in Finland. They were working in St. Petersburg in order to be safe. Then one day in 1922 all of them were found shot. Eight men and one lady. A police officer made the picture of the bodies. I painted a copy of that picture. That was the first and the last time I performed photo-realist style deliberately.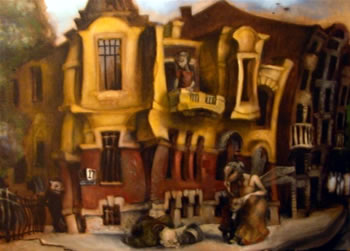 17 Literatorov St. The quality is poor. Sorry, that shows what a dick of a photographer I am. I'll try to explain anyway. So, this is a real house standing in a real street. An elephant-guy slipped on the sidewalk and got scaried the dragonfly-lady and her kid. The scene is being witnessed by a girl on the balcony and a cat-boy around the corner. After spending a year on this piece, I finally looked at it to begin suspecting myself in becoming a surrealist artist. No I'm NOT!!! And never been!